HISTORY OF THE GROUP
"LA BASULATA" Folk Group is made up by passionated fans of the Folk traditions that united all together with the aim to bring outside the thin town borders, a so precious cultural, social and musical treasure like the one we've got.
Previously we have to specify that our town, Baia e Latina, it's always been an incredible "factory" producing art and traditions descending straigthly from our ancestors uses and habits root.

Unbelievably, in fact, since over than 50 years, it keeps on borning in town a lots of valid musicians, singers, actors, dancers and poets that, even if without big means disposable, they keep on lasting a neverending history of ancient traditions such like, for example, the "Baja's Theatrical Group" (that usually brings on the scenes classic comedies taken' from the Neapolitan school, but also some funny comedies originally written from the members of the Theatrical Group)!!..
More, we have to mention, obviously, our famous PRESEPE VIVENTE ("Living Holy Nativity of Jesus") that, since almost 20 years, is one of the most impressive representation of the Jesus Nativity in Italy.
But behind this, how could we pass over the incredible social and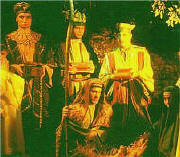 artistic value of the traditional "serenades", the off-hand "sonatas" and the fickle "tarantella" dances, that stands in town since a century. But we wanna specify that usually it is neither needed a special occasion to party for: it's enough the will to stay all together in happiness, a well done supper at a friend's home or simply a romantic full moon in a fresh middle summer night..!!
However, unlucky, in spite of some various attempts (always failed) to made up a local professional Folk Group, actually for the very first time Baia e Latina have the chance to study and export outside the town area the incredible musical repertory derived from our ancestries: thanks to "LA BASULATA" Folk Group, in fact, we'll have the chance to keep and last our culture that, 'til now, has been transmitted EXCLUSIVELY orally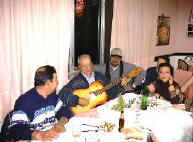 (nothing's been ever written..). But the problem was that just because of this kind of limitation, as the time gone by, we were dangerously risking to lose forever such an immense local cultural patrimony (also if, at least partially, for some old songs we came already too late...).
Our dream came true, after so many anonymous years, thanks to the appreciated performances that an unknown Group so-called "Vecchia Baja" ("Old Baja") had inside the local biannual PRESEPE VIVENTE representation ("Living Nativity"), where the old traditional folk songs the Group used to play happily sitting in its stand around a fireplace, earned a fantastic unexpected success between all the visitors. Later on, people started to ask for video and/or recordings of "that" Group they saw inside the PRESEPE VIVENTE but, finally, we thought it came the right time to move into a professional Folk Group, when people started asking for...the next live concert dates of the Group!!!
Starting from some amazing "shows" and due to the full support of the local newspapers review, but most of all, thanks to the main hard work of those who commonly are considered the basic founders of the Folk Group "LA BASULATA" (Mr. Giuseppe BIONDILLO, Mr. Enzo CUNTI and Mr. Pasquale MAIELLO), in the 2001 officially we registered the birth of our Folk Group with its actual style and its aims are actually well known: we wanna keep forever a musical tradition and a long sequel of successfull shows that lasts, now, since over 15 lustrums (more than 75 years!!)...
And this isn't really that bad, don't you??...
Home | Introduction | History & curiousities | The costume | The Show | The songs | The members | The collaborators | Technical data | Download Area | Photo album | Multimedia & Press | Our concerts list | Contacts & Mails | Credits