AN ELEGANT SYNTHESIS BETWEEN
INNOVATION AND TRADITION
While planning the making of the scene costume for the Folk Group "LA BASULATA", we were previously wondering ourselves a question: did it exist in the past of our town a typical local dressing that we coulda have take as a reference point to start from in designing our costume? Well, the answer (even if

partially..) has been ALMOST positive: there actually was a certain kind of dress once the women from Baia e Latina used to wear. However, the last and, probably, ONLY trace of this kind of dressing has been found in an old painting (see image left), representing a female figure as seen...from the back!!
Notwithstanding some recent attempts owed by local researchers (e.g. the difficult studies carried out by Prof. Simeone Veccia) in trying to "reconstruct" also

the front view of the painting (see image right), the results immediately looked like they couldn't meet the stringent technical requirements of the Group: in fact, behind its evident beauty, we realized that the costume obtained, woulda have been too much "uncomfortable" to wear and it wouldn't have left an ample moving freedom needed from the dancers of the Group, especially during the unchained typical "tarantella" dances...
At this point, we had to forget our initial project and we had to start necessarily working on some other plans; that's why we tried to design autonomously some sketches to choose the definitive model for the official costume of the Group, still keeping, at least, the base colours reached in the painting above-mentioned.
Among all the sketches we've provided, the model designed by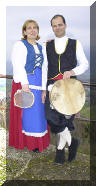 Rosanna Cunti (the beloved daughter of the Group President, Mr. Enzo Cunti, that passed away a few months later at a very young age because of a cancer), has looked the best one meeting the technical requirements we were looking and asking for, so that after the positive evaluation of the responsibles of the Group, we immediately started its achievement thanks to the cooperation of the brothers Franco and Maria Ponticelli's tailorings.
The results (see picture left here), even if by its sober simplicity, has been an excellent synthesis between the innovation needed from the Group members, a certain kind of "inventiveness" to let the costume distinguishable among the others and the total respect for the traditional representation of the typical local wearing, as seen in the hystorical paintings.
What coulda have we needed more...??
Home | Su | Introduction | History & curiousities | The costume | The Show | The songs | The members | The collaborators | Technical data | Download Area | Photo album | Multimedia & Press | Our concerts list | Contacts & Mails | Credits